The Aftermath of the rioting in Honiara
Today we witnessed the first day of Parliament meeting for the new MPs, despite the parliament being closed from the public and most media personnels. Today marks the swearing in of new and returning honourable members of parliament. However, today's event marks another history for a country that has just surfaced from lawlessness and economic downfall over the past few years.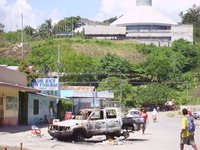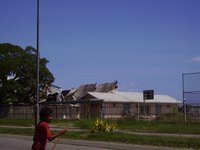 The swearing in of the new government placed a huge responsibility on their shoulders, not only to develop the country but to reconstruct the once known Honiara Town that has been reduced to nearly nothing except ash. It is truely a heart-breaking incident that brought tears to the eyes of many innocent Solomon Islanders, be it a grassroot, educated elite, or a leader. The country mourns for the remains of the town that was full of economic activities that once attracted people from all over the Solomon Islands' provinces to flood into Honiara in attempts to find employment and enjoy better services. However, these dreams are dull as people, families, both men and women count the losses that resulted from the rioting and burning last week. It is a sad history for Solomon Islands that would definitely be remembered for so long.
During the weekend we saw more Chinese leaving Honiara for home, Mainland China. The problem in Honiara caught everyone by surprise except those who instigated it, if there is any, but the truth will unfold as more arrests are expected over the next few weeks and months. Whether Honiara will be the same old Honiara that we once knew is another issue, but the truth is that China Town is gone and most basic neccessities that were once sold in Chinese shops and restaurants would be no longer there, for time being.
Counselor Gao Feng of the Embassy of the People's of Republic of China, Papua New Guinea said that about 20 to 30 percent of the about 3,000 Chinese in Solomon Islands have indicated their desire to leave. He says the looting and burning of property of innocent Chinese in Honiara was deplorable, saying they were ordinary people not involved in politics.
A Solomon Islands Chinese citizen, Patrick Leong has taken things into his own hand by offering a reward for people who would help with information to convict those responsible for the destruction of his business. His business include the Pacific Casino Hotel, and buildings housing the Fortune Restaurant, Supreme Casino, Top Ten Night Club and Pacific Casino Apartments. Mr Leong stated the business is worth about 60 million Solomon dollars.
The costs of the destruction in Honiara is expected to be in the millions, but who should the Chinese busness owners forward their claims to is another issue for thought.
Original photos emailed to us by: Monica Longanimala (Honiara)